Christingle Service 2nd December 2018
God's Mix and Mash
Ceriann, our church worker and Rev' Joanne, our curate, regularly visit school and organise a Bible based lunch club for KS2 pupils. The club was named by the pupils. The children say they really enjoy playing games, drama and role play.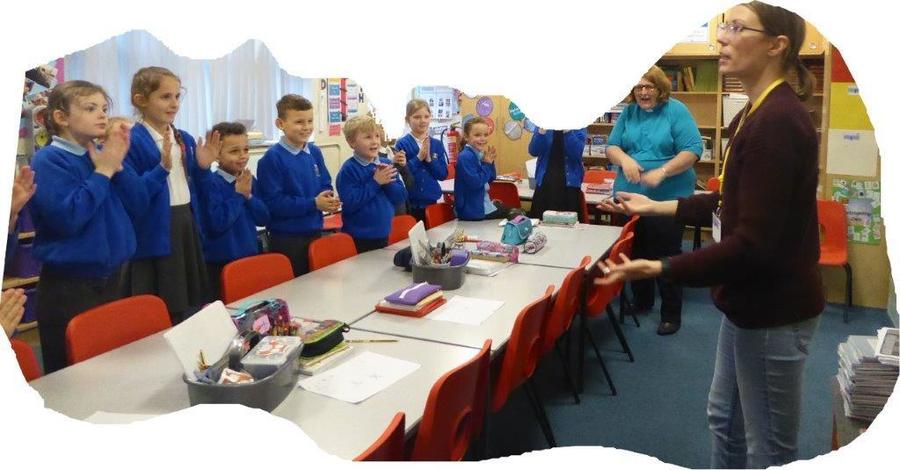 Holy Rood Church Flower Festival
3rd & 4th October 2015
Packington Church of England Primary School Flower Festival 2013
We have thought very carefully about the elements of our display for the first Flower Festival at Holy Rood Church and our design represents our distinctive Christian ethos, the importance of community to the school and our future hopes and dreams:
The tree represents our love of our local environment and our participation in activities with the National Forest. It also reminds us of our beautiful cedar tree that stood for many years in the school grounds commemorating the coronation of King George Vl.
The tree is no more but part of it "lives" on in school as a beautiful cedar wood sculpture of the Packington School Bell carved for us by Peter Leadbetter and blessed by Reverend Vivien in a special community service. To remind us about this we have placed the school bell emblem on the trunk of the tree and decorated it in the school colours of blue and yellow. The bell is a symbol of the school and by placing it on the tree we are also reminded about the importance of our community links, particularly, the help of the Packington History Group in finding out about the history of the cedar tree and the support of the Horticultural Society in helping the pupils to plant a new tree to commemorate the Diamond Jubilee of Queen Elizabeth II. The flowers on the bell were collected by the school community.
The doves on the tree represent our Christian ethos and our eight Christian values of thankfulness, peace, patience, endurance, justice, friendship, compassion and trust. These are the building blocks that guide us in our daily lives and support us in our drive to make achievement and spiritual, moral, social and cultural development outstanding at our school.
The paper flowers represent "Our Year of Determination". This is our whole school focus for this academic year with the aim to promote and develop positive learning attitudes, high aspirations and the determination to succeed. Every child in school made their own petal putting on it their dream for the future and what they would like to become when they are older.
Posada 2014
Mary and Joseph visited the home of each pupil in
Year 2. Their journey started on December 1st and they returned to church on December 19th in our Carol service.